Nyaasu
Level: 36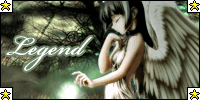 Cards: 7259 ()

Wishcards: 2
Randomcards: 0
Snowflakes: 20
Points: 164

Information:
Karten, die ich tausche = tausche ich gegen alles! Den Rest nur gegen Karten, die ich sammle.
Cards for trade = trade for anything! Other cards I'll just trade for cards I collect.
Card Search (Set Name):
Cards
Klicke auf eine Kategorie, um die Karten anzuzeigen.
Click on a category to see the cards.